Powerful performance with complete control.
Advance combines the world leading Tru-Inverter compressor with unique Variable Fan Technology to deliver the perfect amount of heating or cooling, right down to a fraction of a degree, providing the best in comfort and energy efficiency.
14.0kW, 16.0kW, 19.0kW, 21.0kW
Tru-Inverter Variable Speed Scroll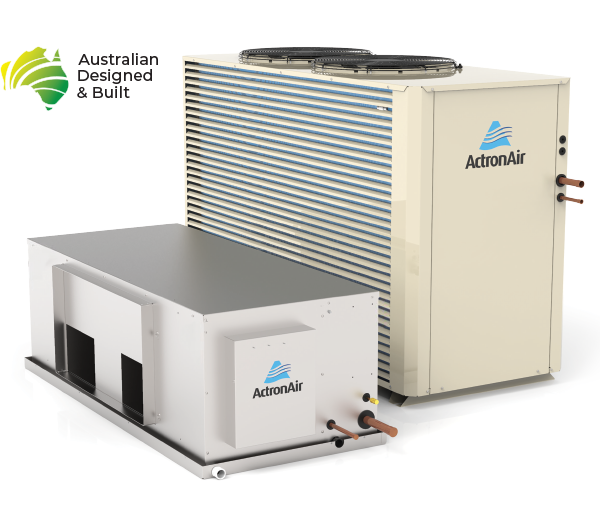 Feel better and save money with vertical discharge
In Australia, most outdoor units are installed down the side of the house, up close to a fence. And because we design our systems specifically to suit Australia, of our Australian-made ducted units come with vertical discharge which makes them much better suited to typical Australian homes, delivering better comfort, more reliability, and greater energy efficiency.
Advance comes with True Zoning for the ultimate in comfort and efficiency. 

Choose from more zoning options than any other brand.
Only condition half your home at one time.
Day/Night zoning, also known as a 2 zone system, is a popular entry level zoning option. With Day/Night zoning the rooms in your home are grouped into 2 different sections, or "zones" – all of the rooms you use during the day in zone 1, and all of the rooms you use at night in zone 2. This allows you to choose to air condition just the one zone at a time, saving you money on power.
How do we do it better?
Only Australian made ActronAir ducted units come with: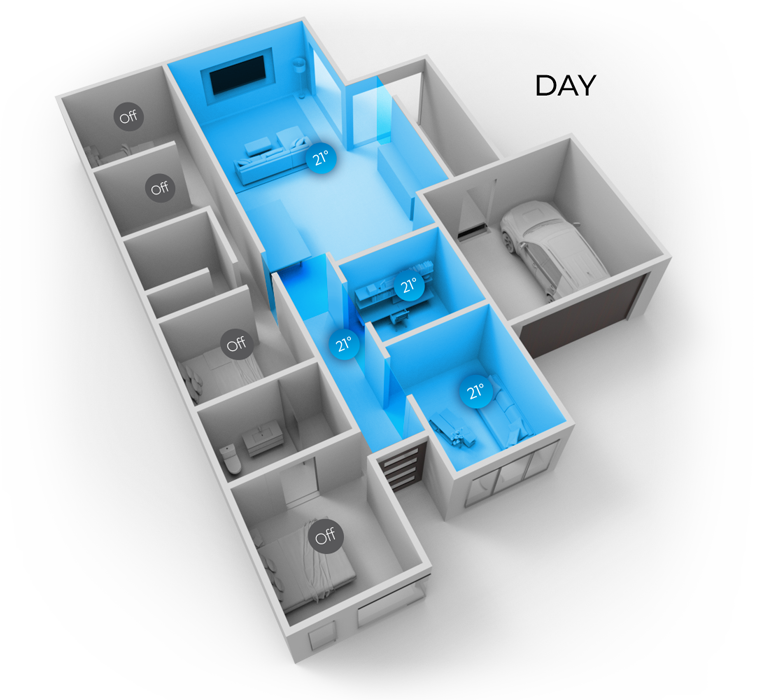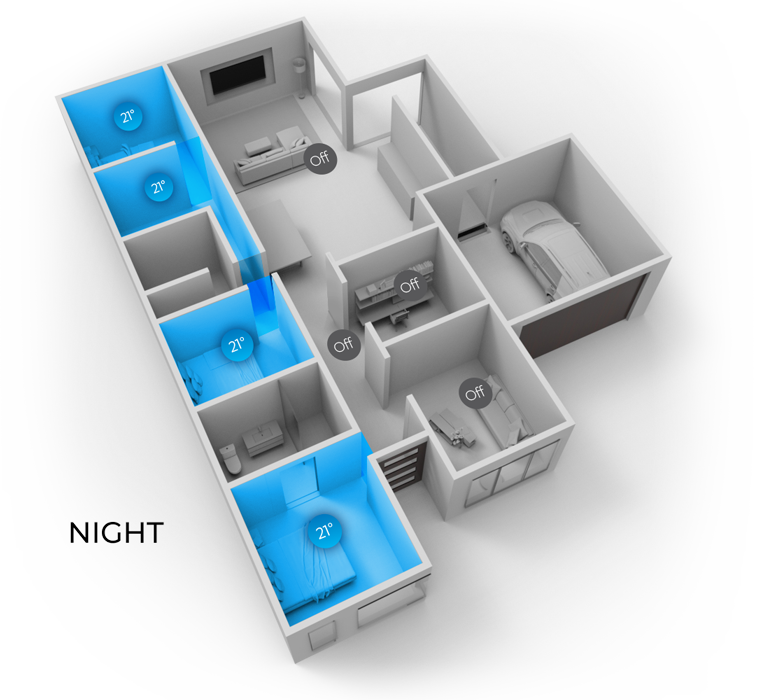 Only condition the rooms you want to.
Individual Room Zoning is a premium zoning option that allows you to divide your home into multiple individual zones, each of which can be air conditioned separately from one another, giving you precise control over your comfort and better energy efficiency.
How do we do it better?
Only Australian made ActronAir ducted units come with:
Variable Fan technology, Australia's most advanced fan technology that precisely matches the amount of air our systems generate to your needs
Feel More technology, to maintain more even temperatures
Unity IQ control logic, which ensures every element of the system works in perfect unison for the best performance
*Variable Fan Technology not available on Classic systems.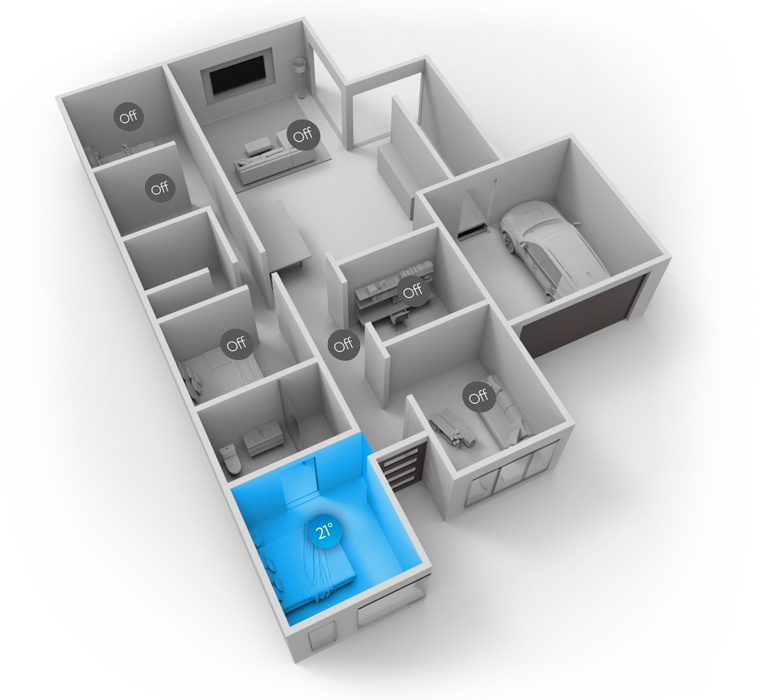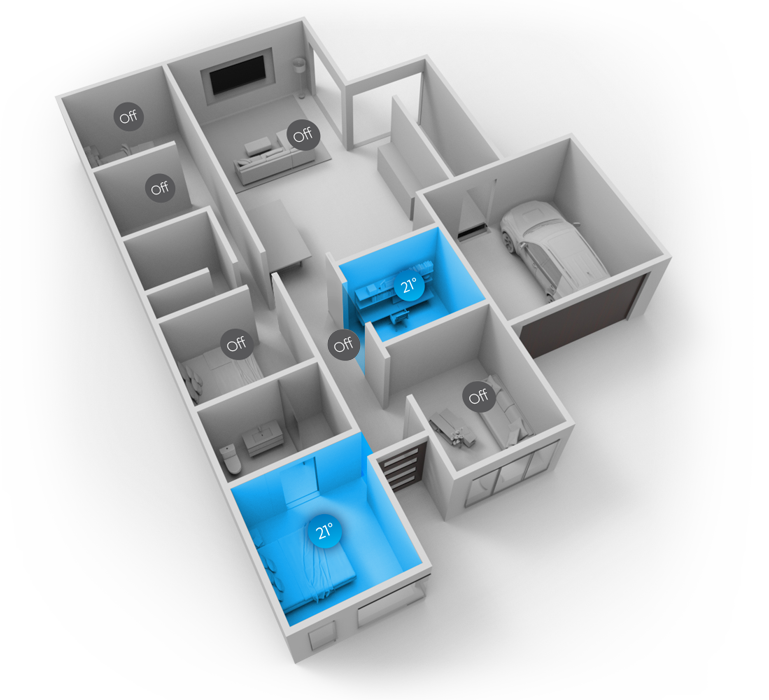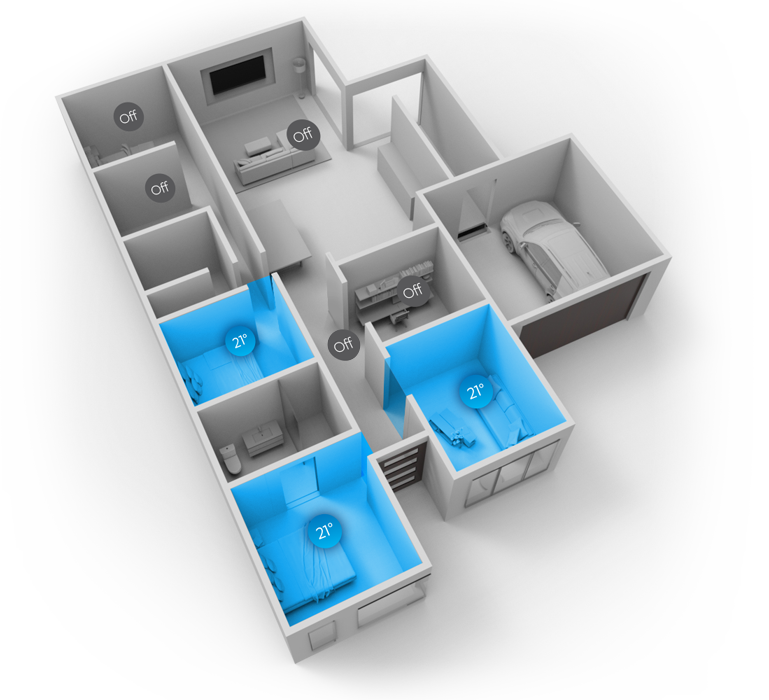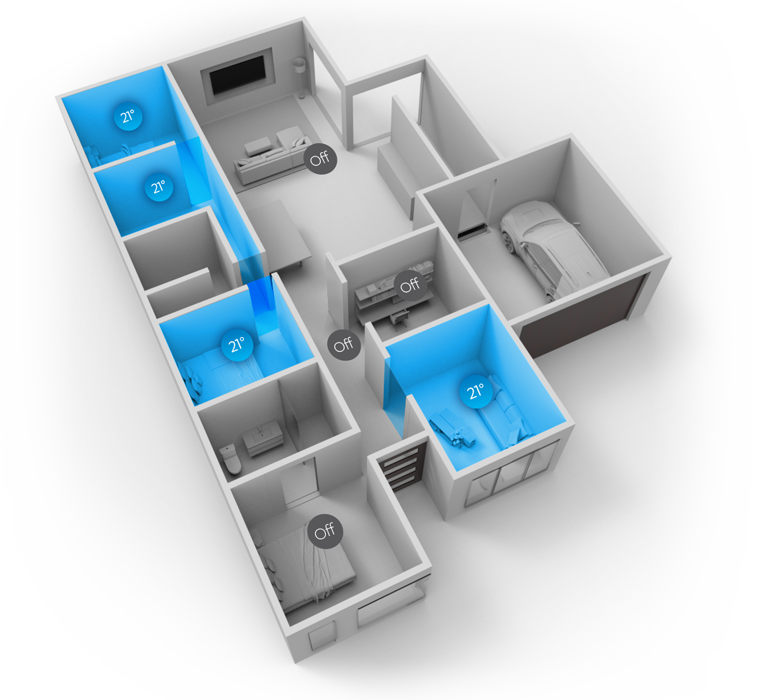 Our systems come with more of what you need.
Our Australian-made Advance system comes packed full of features that remove the need to pay
for expensive aftermarket upgrades, or clutter your walls with extra zoning modules.

Up to 6 Temperature
Sensing Points
On-board
Temperature Sensor
Smarter performance through advanced technology.
Maintain your temperature more evenly.
Feel More technology means ActronAir systems come with more temperature sensing points, which allows them to evenly maintain the temperature throughout your home no matter the time of day.

Australia's most advanced fan technology.
VFT perfectly matches the air our systems generate to your needs for the best in comfort and efficiency.

Most other air conditioning systems actually force you to pay for more air than you need, because they are unable to slow their fans down far enough to simply meet your demands.

Thanks to VFT our premium systems can slow down to as low as 20% of their total capacity, precisely matching the amount of air they generate to the conditions you want for better comfort and lower power bills.

The best performance come when air conditioners and controls are designed with each other in mind. That's why we offer the widest range of controls that have been designed and built from the ground up by us, for us.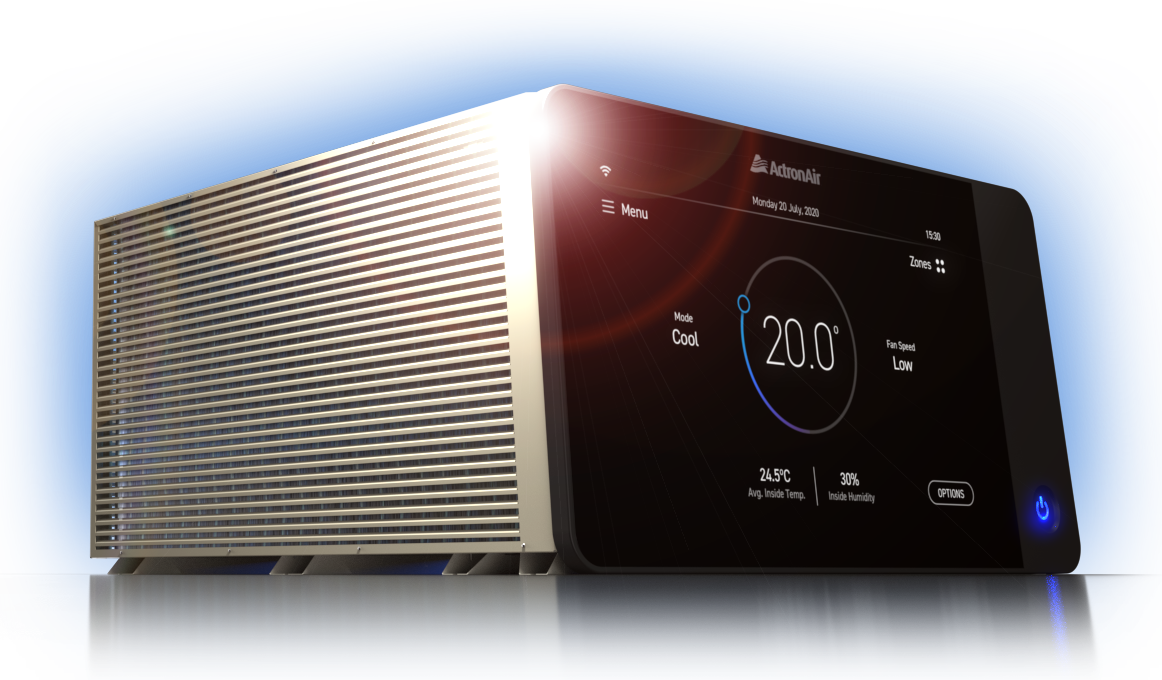 The best analogue control on the market.

Available in your choice of grey or white, the L-Series comes packed with all the features you need to receive the best comfort and performance.

NEO brings the best in premium touchscreen technology to more people than ever before.
It's better when everything works together.
Because we design and build controls specifically to match our systems, they come with smart Unity IQ control logic that ensures every element within the system works in perfect unison to give you the comfort you're after.
A lot of other systems out there require you to manually adjust all sorts of different elements of the system in order to maintain your comfort.
Well, Unity IQ makes it easy – simply choose the temperature you want, and it takes care of the rest.

The best warranty for total peace of mind.
All of our Australian-made ducted units and their controls come covered by a single 5 year warranty.*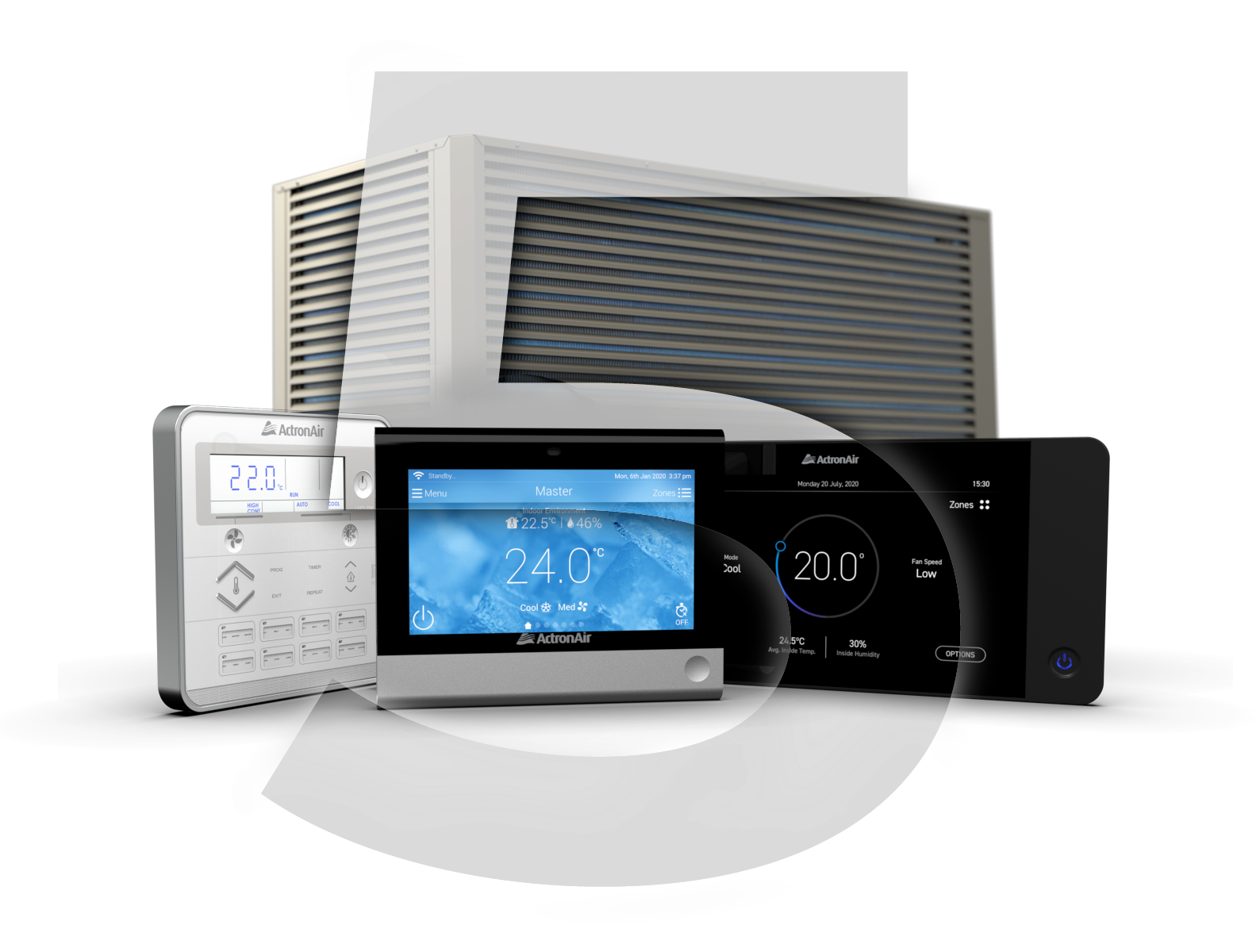 *Refer to full warranty terms and conditions.
Talk to an ActronAir specialist today.